The Hamptons style has its origins in the exclusive American coastline of the same name, where houses fetch sales in the millions of dollars. The style was born from necessity, with farmers and fisherman building to suit the conditions – homes that were breezy in summer and warm in winter. This is just one reason why the Hamptons style has been adapted so well to the Queensland lifestyle.
Queenslanders have taken the Hamptons style and reimagined it to fit their own culture, lifestyle and weather conditions. In Australia, a Hamptons home epitomises luxury while still remaining relaxed and comfortable for everyday living.
We thought this would be a good opportunity to discuss how you can recreate the Hamptons style in your next renovation or new build, given the recent experience we've had with our Hamptons home in Coorparoo.
Exteriors
It's easy to pick a Hamptons-style home as you drive arounds suburbs like Coorparoo, Camp Hill and Gordon Park. Often when we think 'Hamptons', we automatically imagine weatherboards and gables. Traditionally this look is achieved with wooden shingles but in Australia, we have reimagined this using traditional weatherboard, which integrates well in older suburbs with existing Queenslanders and cottages. We used James Hardie Scyon Linea cladding for our Coorparoo Hampto
ns project.
Generally, windows and trims are white and paired with a myriad of grey, navy or blue paint colours on the weatherboards. We also typically see some stone features in the exterior, which can be as simple as a fence or feature pillars.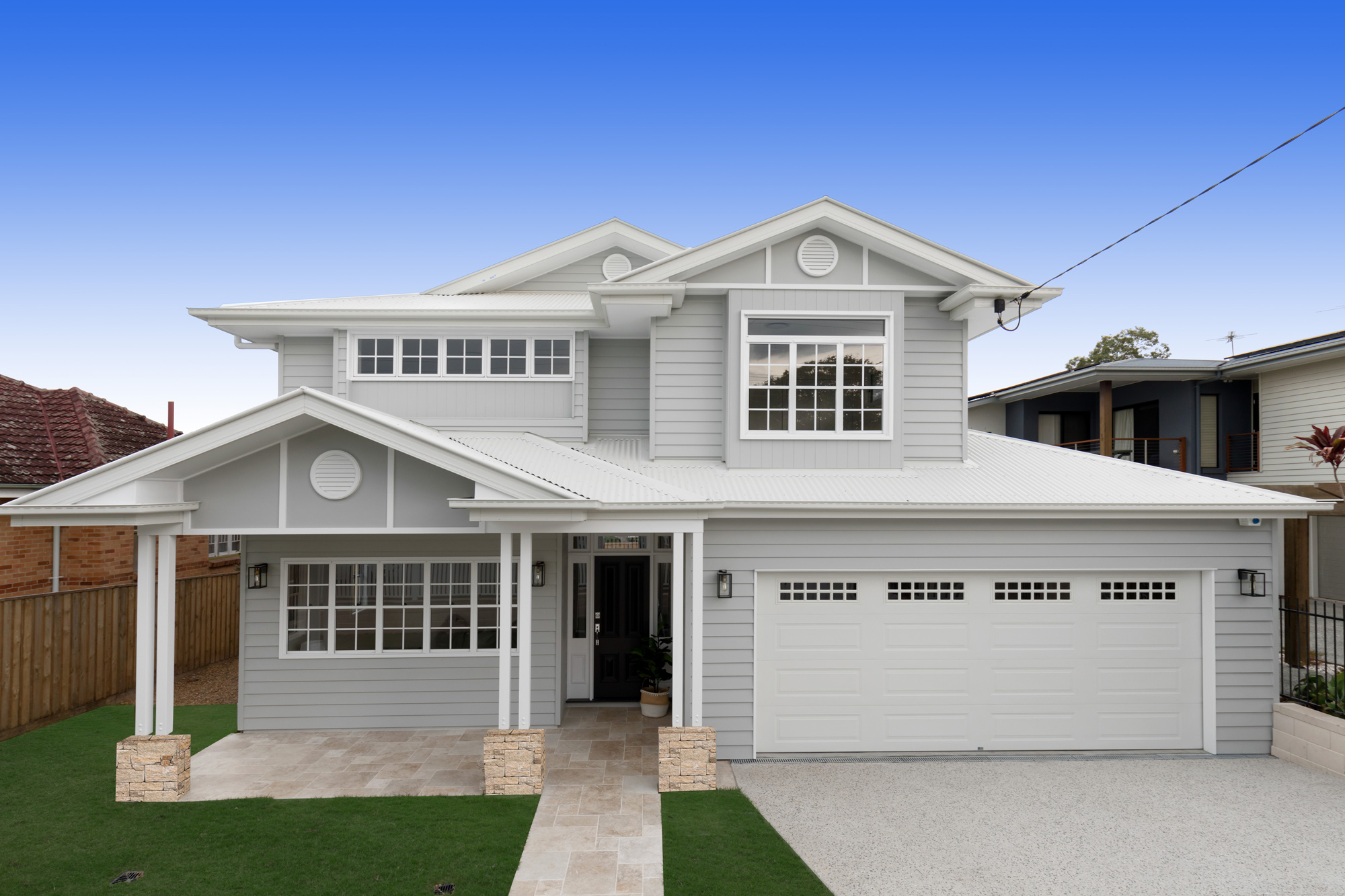 Let the Outside In
We love a house where the outside is invited in, giving the illusion of more space. This type of construction is popular in coastal areas where homeowners want to invite the ocean in, but even if you don't have a sea view, you'll likely still appreciate a feeling of space.
Incorporating bi-folding doors and windows into your build is a great way to open your living areas onto an outdoor area or pool. Light and space can also be created during the design stage by placement and style of windows.
Kitchen
One of the key features of a Hamptons home is shaker-style kitchen cabinetry and marble-look bench tops. You can be relatively creative in terms of the choices of handles and splash backs, although subway-type tiling is very popular and economical in achieving the desired look. The overall colour scheme should be simple and traditional – think white and navy.
This look is generally finished off with feature pendant lighting hanging over an expansive island bench. Tapware should be more traditional than modern, but it doesn't have to be over the top to achieve the desired look.
Stairs
The internal stairs are a significant feature and showcase of the Hamptons home. A traditional Hamptons-style staircase complements the shaker-style kitchen cabinetry – think dark timber coloured treads and detailed handrailing with risers and balusters painted white.
Our Coorparoo clients chose to incorporate a wall of exterior windows to complement the staircase and allow an abundance of natural light into their home. It also features an impressive Hamptons-style pendant light which hangs from above so the staircase can be appreciated at night.
Styling
At the end of the day, the Hamptons style is created by your styling finishes and selections.  This determines which end of the Hamptons spectrum your home sits – from modern Australian to classic American. Your home may see the inclusion of a traditional mudroom, a necessity for a busy family, or perhaps selection of skirtings – from coastal rattans to heavy timber.
These features of the Hamptons style translate well to life in Queensland and allow families to adapt and change their homes in line with their family's needs, from infants to teenagers.
____
If you're thinking about renovating or building in the Hamptons style, give Luke from Redchip Constructions a call today to discuss how you can achieve your vision.